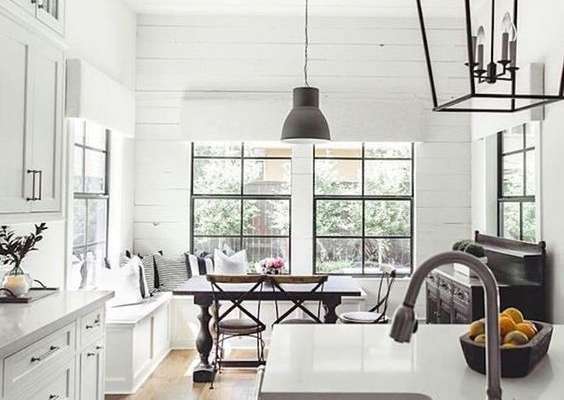 June 26, 2017
What is Modern Farmhouse?
Rustic, cozy, and full of charm – modern farmhouse style is more popular than ever. The team at Tower Homes loves this nurturing style in all its glory and our new modern farmhouse floor plans will combine the best of modern and old-fashioned looks. Birmingham's homebuyers tend to embrace tradition and love surrounding themselves with things that make them feel good. This home design style offers vacation-like living with nothing overdone or excessive.
What Makes up Modern Farmhouse style?
What are some elements of this popular home style? Modern farmhouse evokes feelings of warmth and comfort. The interior is all about mixing comfortable furniture with salvaged materials like reclaimed wood, cedar beams, or shiplap walls. Antiques are right at home in classic farmhouse interiors. Furniture invites you to sit down, and nothing looks as if it's too fragile to touch. There is no place for clutter. Modern farmhouse style combines clean lines with a rustic touch and while similar to country style, it leans toward more minimal accessories while providing a relaxed level of clean sophistication.
Great living inside and out
What are some of the most common exterior elements of modern farmhouse? Covered porches, large doors, exposed wood and whitewashed walls are the most classic components of the modern farmhouse design style. There is a lot more to this style, but a simply speaking modern farmhouse marries interiors and exteriors for quality and comfortable living.
Modern Farmhouse Interiors
Inside most modern farmhouse designs you'll find a combination of these elements:
Reclaimed wood
Barnboard details
Big comfortable furniture
Board and batten
Cedar beams
Stone patios
Shiplap
Custom book shelves
Architectural salvage
Pine furniture
Wrought iron accents
Wide plank floors
Vintage accessories
Buy a Modern Farmhouse in Birmingham Area
The President of Tower Homes, Price Hightower, is always interested in what new homeowners may want in their new homes. He is proud to introduce our brand new modern farmhouse style floor plans for homebuyers at Cahaba Farms in Trussville. Tower will build 10 homes on estate size lots, which back up to Cahaba River. Mr. Hightower says: "If I was a little boy, this would be my dream home community! There are trees, rocks and you can cross Cahaba River to walk into Trussville's Sports Complex right from your backyard!" Cahaba Farms in Trussville will be a one of a kind community in Trussville. The 10 homes offered will be built in modern farmhouse style designs, ready to deliver on charm, comfort, and style. These exclusive homes on 2/3 Acres lots will sell quickly as Tower Homes is already receiving a high volume of inquiries from the potential homebuyers in Trussville and Birmingham. Contact our agents, Sandy Reeves or Matthew Calhoun, and let Tower Homes build your modern farmhouse dream home in Cahaba Farms.