As the days grow shorter, leaves change color, and the familiar crisp air of fall sweeps through Birmingham, the city comes alive with exciting events and festivities to celebrate the holiday season. The 2023 fall activities in Birmingham, AL, cater to many different interests. Whether you like outdoor adventures, cultural events, or seasonal festivals, there's something for everyone to enjoy during this season. 
These activities are a great way to spend time with family, friends, and neighbors and feel more connected with the surrounding community. At Tower Homes, we've built unique single-family homes at our premier community, The Grand, in the Greater Birmingham area, so you won't have to travel far to have a fun time this fall. 
Haunted Houses and Halloween Events
As Halloween approaches, various haunted houses and spooky attractions exist in and around Birmingham. All these haunted attractions are about 30 minutes away or less from your home at The Grand! 
Atrox Factory: Known for its intense and innovative scares, Atrox Factory is one of the largest haunted houses in the Southeast. It offers a spine-tingling experience with elaborate sets, talented actors, and jaw-dropping special effects. 
Warehouse 31: Located in Pelham, just outside Birmingham, Warehouse 31 offers multiple haunted attractions, including a haunted house, a zombie experience, and an escape game. It's known for its attention to detail and immersive scares.
Nightmare at 3008: This award-winning haunted house in Fultondale, a suburb of Birmingham, offers a creepy and immersive experience. It features various haunted scenes and terrifying surprises and is known for its "chaotic, dark, and grungy style." 
Haunted Places Birmingham Ghost Tour: While not a traditional haunted house, this ghost tour takes you through some of Birmingham's most haunted locations, sharing eerie stories and local legends. Visitors can enjoy lectures, speeches, and other storytelling events that retell the city's captivating history of ghosts, ghouls, and graveyards. They are currently offering three tours of the town's most haunted spots and an event called 13 Artifacts that comes with an immersive interactive dinner show for the bravest patrons.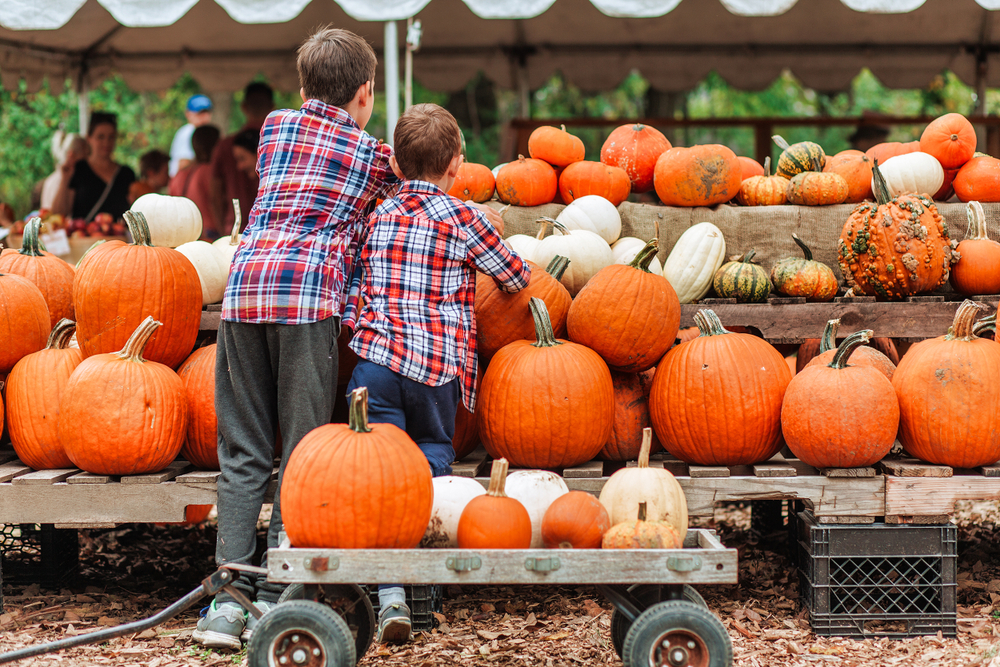 Pumpkin Patches, Farms, and Train Rides 
For more family-friendly daytime activities, visit a pumpkin patch or farm to pick your pumpkins for carving or decorating.   
Painting Pumpkins in the Park: Come enjoy the outdoors and fresh fall air with your family at Pelham City Park. Paint and decorate your own tiny pumpkin on October 15th at 2 PM. Painting sessions will last around 30 minutes, and all supplies are included. Admission is free for this event, and space is limited, so make sure you get there on time. 
Old Baker Farm: Experience the rustic charm of Old Baker Farm, a popular family destination in Birmingham. Located about an hour from The Grand, this historic farm welcomes visitors to explore its grounds, pick seasonal fruits like pumpkins, and attend its October 2023 events! The farm's annual festival weekend takes place October 28th-29th from 9 AM – 5 PM and is full of fun! Visitors can shop from various vendors, enjoy farm activities and live music, visit the 1800s-inspired carnival, and much more!
Pumpkin Junction: The Heart of Dixie Railroad Museum in Calera, about 30 minutes south of Birmingham, hosts the annual Pumpkin Junction Express. Hailed as an "old-fashioned family-fun event," visitors can take a train ride to a pumpkin patch to pick pumpkins and enjoy other activities like hayrides and inflatables. This annual event occurs on Saturdays and Sundays from October 7th to 22nd, with various departure times. Don't forget to check out their other fantastic fall train ride, Fall Foliage Special, making the rounds for three incredible rides (Saturday, October 28th, Saturday, November 4th, and Sunday, November 5th). As well as the North Pole Express, their annual Christmas tradition, starting in November 2023, passengers can enjoy a holiday sing-along, sweet treats, and numerous photo opportunities with Santa and his special guests.  

2023 Fall Festivals in Birmingham 
Birmingham hosts several fall festivals for residents to attend. These events are perfect for enjoying the local culture, crafts, music, and food.
Moss Rock Festival: Celebrating its 18th year, this eco-creative festival from November 4th-5th, 2023, showcases nature, smart-living ideas, art, and design. Visitors can enjoy art exhibitions, live music, sustainable living ideas, and local food vendors.
Vulcan AfterTunes: Held at Vulcan Park and Museum, this concert series features live music, craft beer, and beautiful views of the city's skyline. This three-part event has two dates, October 12th and October 26th, so you can still join the fun. Vulcan Park and Museum will kick off its tenth year of Vulcan AfterTunes featuring The Revivalists (Sept 28th), Dumpstaphunk (Oct 12th), and Milo Greene (Oct 26th). Attendees are encouraged to "chill out in Birmingham's backyard and end your week with some of the area's best music while witnessing spectacular views of Birmingham's city skyline. Grab your lawn chairs and blankets and bring the whole family out to relax."
FOOD+ Culture Fest: The inaugural FOOD+ Culture Fest takes place from October 12th to 15th, 2023, at multiple iconic venues across Birmingham, including Pepper Place and Sloss Furnaces. This four-day event will showcase a Saturday Market, over ten delectable dinners at various city restaurants, and a lineup of more than 50 renowned chefs, mixologists, brewers, and other culinary talents. This is a festival you don't want to miss! 
Dia de los Muertos (Day of the Dead): On November 2nd at Sloss Furnaces, come out to celebrate Dia de los Muertos, a Mexican tradition that honors departed loved ones through the art of music and dance. This vibrant festival is a colorful and heartfelt tribute to those who have passed and provides a look into Mexican culture and its emphasis on family values. There will be Ofrendas (memorial altars), free art activities for children, a festival market, face painting, live music, dancers, spoken word performances, food trucks, and a special memorial roll call. 

Live at The Grand in Birmingham! 
You don't have to worry about missing any of the fun fall activities in Birmingham this year when you live at The Grand. Starting from the mid $300's, The Grand features our modern farmhouse and craftsman-style floor plans, ranging from 1-2 stories with 3-4 bedrooms, 2-car garages, and 2-3 baths. At Tower Homes, we're dedicated to providing our homeowners and prospective buyers with relevant information about our new neighborhoods. Contact an agent today about our available move-in-ready homes at The Grand!